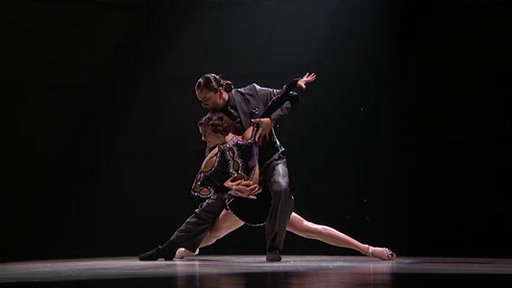 The awesomely urgent Argentine Tango with Haley and Leonardo, and that fascinating and compelling contemporary piece with Jasmine and Aaron, kept SYTYCD from being a total bust Tuesday night.
The salsa danced by Malece and Alan could have been the highlight of the night if it weren't for the complexity of the piece by a real amateur choreographer — Jonathan Platero. They need to put that kid back into choreographer-training pants before he gets someone seriously hurt. If Alan had not been so strong in those lifts and Malece so small and adept, they might not have pulled it off at all. But in spite of the handicap of the choreography, Alan looked smooth and effortless while keeping up a killing pace. The judges should have gathered to praise Alan, not to bury him. He definitely deserved better.
His recent routine will shine with Malece. I loved it when he assured Malece he would not drop her. And by his tone there was no doubt she would be as safe with him as she was with Marco. (The safety consideration harks back to the putz who dropped her on her head in the auditions).
And just as Malece was freed to show her true colors when partnered with All-Star Marco, so Haley stepped out of the shadow of Curtis when she moved into Leonardo's arms. Of course, the routine was choreographed by Leonardo and Miriam, and he is a professional dancer, but he absolutely showcased Haley so the audience could see her true talent. She was impressive when she froze in place on that lift. With a good partner she will shine.
It always amazes me how the good dancers could also have a career in acting. Jasmine and Aaron certainly showed that with their apple routine. So many different emotions played across their faces and were displayed in their movements, that I was mesmerized by their sheer vulnerability, openness, and range. I have no idea how they can be so precise in their movements and still give that feeling of flowing into and with the sense of the piece. They are such a watchable, likeable dance couple.
I won't go into every routine. For one thing I was bored the first time around and have no desire to chew that cud again. I will, however, have a say about that cue stick routine, which will be forgotten before the chalk dust drifts to the floor. Too busy with too many props detracting for too long. And the flattery of the judges for Spencer Liff in his own choreography made me cringe. I thought Alan was particularly outstanding, as well as Tucker, though the whole thing was hard to keep up with. I couldn't help but notice Malece as they threw her from one male to the other. Not an auspicious group routine.
On the other hand, the one about bullying was well done. Not only was the concept a good one, but the three dancers in white standing apart from the ones in dark clothing helped me follow the meaning of the action. The lighting, and the large shadows on the wall pacing the dancers, gave it an intensity that was deeply felt. As for the execution, only Fik-Shun was slightly out of sync a couple of times, but as Mary Murphy said, he always brings the emotion 100%. There wasn't a single prop anywhere sight and it put the other group routine so far on the back shelf it'll gather dust.
I just hope the choreographers lose their tendency toward embarrassingly graphic routines and an over-abundance of hip-hop and get on with some variety.