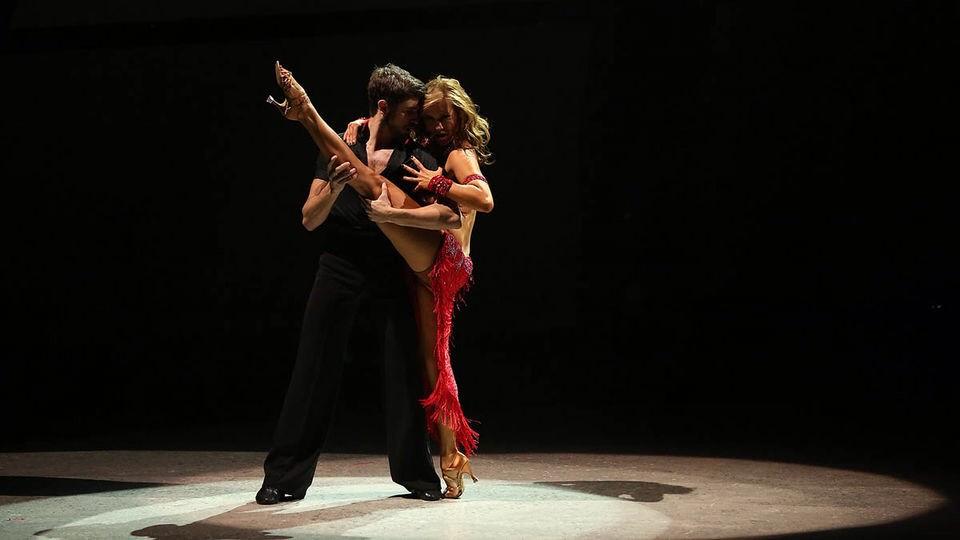 Cha-Cha on the Choo-Choo. The Hot Tamale Train is On Track with Anya and Ricky. He dominates on the dance floor and in the competition.

I was looking forward to some eye-popping, Standing O routines on this crucial night before the last two shows. But, though there were some really good numbers, and Anya and Ricky sent temperatures into orbit, there were none that merited leaping out of your seat. The problem was not in the dancers. It was in the choreography, which wasn't as edgy as on previous shows.
All season we have had consistently great routines from the likes of Travis Wall, Sonya Tayeh, Tabitha and Napoleon (NappyTabs), and Mandy Moore. Where were they last night, a really critical night for the contestants? I was happy to see Stacey Tookey, who also consistently brings her A-game, contribute a beautiful contemporary routine.
Surprisingly, one number that really popped for me was the hip hop routine by first-time guest choreographer and season five contestant, Phillip "Pacman" Chbeeb. When he described what he was shooting for in this routine — something reminiscent of the Rorschach test — for Zach and Fik-Shun, I thought, good grief. How is that going to work? Well, so much for what I know. It worked. And I couldn't take my eyes off Zach. I was amazed at his grasp of the routine and his dexterity. Mary Murphy called Zach "the biggest surprise of the season". And this unstoppable tapper surely is. This was not the most "beautiful" routine by any means. Just the most entertaining, and certainly the most original and complicated. I give kudos to this first-time SYTYCD choreographer.
The first couple out of the chute was the undisputed leader of this season's pack — Ricky — and his season partner Valerie. This Spencer Liff routine had its moments — Ricky jumping through the rope swing (twice) and never missing a beat, watching Ricky's always breathtaking emotion in motion, and the flashback of Valerie's pastel cloud of skirts getting hung on the swing. The rest of it was sweet and forgettable. I can only assume that Spencer Liff was playing to Valerie's strengths, but still putting the stronger partner through his paces. This routine was not one for the ages like many I could mention. It's not that I'm just looking for adrenaline highs. I love the pieces that pull at your emotions and encourage thought on a deeper and more vital level. I also love Broadway routines. It's just that this piece fell somewhere in the soft middle. Nice to watch. Sweet, as Mary Murphy pointed out. Not bad. Not great.
Judges' Comments:
Christina Applegate has shown herself to be quite witty now that she is editing the foul mouth she has exhibited in other seasons. I can now enjoy her as a judge who contributes not only humor, but expertise in her comments. In Ricky and Valerie's number, she hoped Valerie was "wearing knickers" when her skirt got caught in the swing during rehearsal. "Otherwise," she said, "Ricky got quite a vision." Nigel thought they captured that "warm, romantic mood", while Mary Murphy told Spencer he must have sprinkled sugar on it because it was so light and airy and sweet. Ricky and Valerie "looked like they didn't have a care in the world," she said.
"I'm still dizzy." Mary Murphy said it for everyone in her comments on the disco dance routine with Casey and Jessica, choreographed by Doriana Sanchez. You could put that one in a circus and bill it as a death-defying act. That opening, endless spin with Jessica locked onto Casey was one for the records. That's one I will watch several times. Mary told Jessica her legs were so crisp and so beautiful they looked like Samurai swords. I thought her outfit was gorgeous and she was gorgeous in it. But the real star of that act was Casey, so strong and confident, and his equilibrium must be amazing. I hated to see him go. But, being so close to the brass ring, he can't help but get caught up in its orbit. He'll definitely be on his way to bigger and better things, not to mention the chance to come back as a SYTYCD All-Star.
Zach and Jacque were no Fred and Ginger by a long shot. And I don't think any amount of practice could get them there until they've matured a few years. Jean-Marc Devereaxs' Time Machine was driven by the Babes in Toyland and couldn't make it to 1950. For the judges, it was all thumbs down. I love Zach. I think he's awesome. But I've said before that he looks like a little boy in the romantic or sexy routines no matter how he puts his feet. It's a good thing Zach had the hip hop with Fik-Shun. He shone in that one. Jacque is one gorgeous girl, and she's had some good routines. But she's not top of the line among the contestants. The only girl this year who could keep up with the guys in absolute top performance was Tanisha. I totally agree with guest judge Misty Copeland. The guys have it this year.
The hip hop wedding by Wildebeast was odd without being particularly noteworthy or entertaining. Even Twitch couldn't get me interested in it, though the judges praised the routine. Thought All-Star Twitch has led his amateur partners well this season, he couldn't save the rather clunky choreography with Valerie. There were no smooth transitions and the costumes seemed encumbering and uncomfortable. The routine might have gone better with a female partner with longer legs, like Tanisha. Even after the distracting skirt was ripped off, Valerie looked hard-pressed to keep up with Twitch, even though this number was by far not his best. I blame half the failure on his uncomfortable costume and half on the choreography. At the end, a little of the seam in the front of his pants was ripped.
I don't like routines with props as a rule. But in this one, Jacque and All-Star Will managed to not only pull it off, but made it look good. Mostly props are distracting. At worst they are disastrous. Thank goodness the exercise ball in this Sean Cheesman piece was used only briefly and to good effect. It was a lovely dance and Jacque and All-Star Will were absolutely beautiful together. They looked like long-time partners, complementing each other and flowing seamlessly together. I would like to see these two partner in other dances, though I know it's not likely. The judges really didn't have much in the way of comments worth quoting, but I liked it very much.
I think Ray Leeper just got weird on his jazzy hip hop routine with Jessica and All-Star Ade. Jessica looked like a female Alley Oop, an old Sunday comic strip featuring a cave man — wearing furs, of course. However, this female of the species (whatever species these two were supposed to be) must have gotten into a patch of hallucinogens. The costumes hark back to those boring 1960s movies playing screechy, high-decibel sitars while spiraling psycho colors are geared to make you crazy — or sick. This number didn't get a high rating from the judges, either.
WOOOOO-WOOOO! This was the best Cha-Cha I've seen on the show. All-Star Anya was so hot, her partner Ricky was compelled to note, while still catching his breath, "She is SOME woman!" Nigel Lithgoe agreed. "We noticed that years ago," he said. But the best line of the night was Christina. "I want to be Anya when I grow up," she said. She called it "SIN-sational". All the judges admitted that Ricky "controlled the beast", and so he did. He was magnificent. But Anya. Wow. That one little movement where she brushed her hair out of her face, right on a particularly good beat by the way, brought that hot tamale train roaring down the track. I must agree with Christina. I want to be Anya when I grow up. Actually, at my age, it would have to be in my dreams.
By far the most emotional routine of the evening was the beautiful Stacey Tookey contemporary with Casey and All-Star Makenzie. Both contestant and star were remarkable. "I love me some Tookey," said Christina Applegate. And I knew what she meant. Stacey Tookey seldom lets us down in her contemporary stories told in music and movement. This story was about — what if you knew you only had one day left with the one you loved. Mary Murphy said they made a beautiful couple together, and I so agree. "I didn't notice when one step ended and another started," she said. "It just melted and blending and just smoldering there." Mary also pointed out the leverage backbend, and said she would always remember that. "I think you had a performance of a lifetime tonight," she told Casey. Unfortunately, it was Casey's last night.